Description: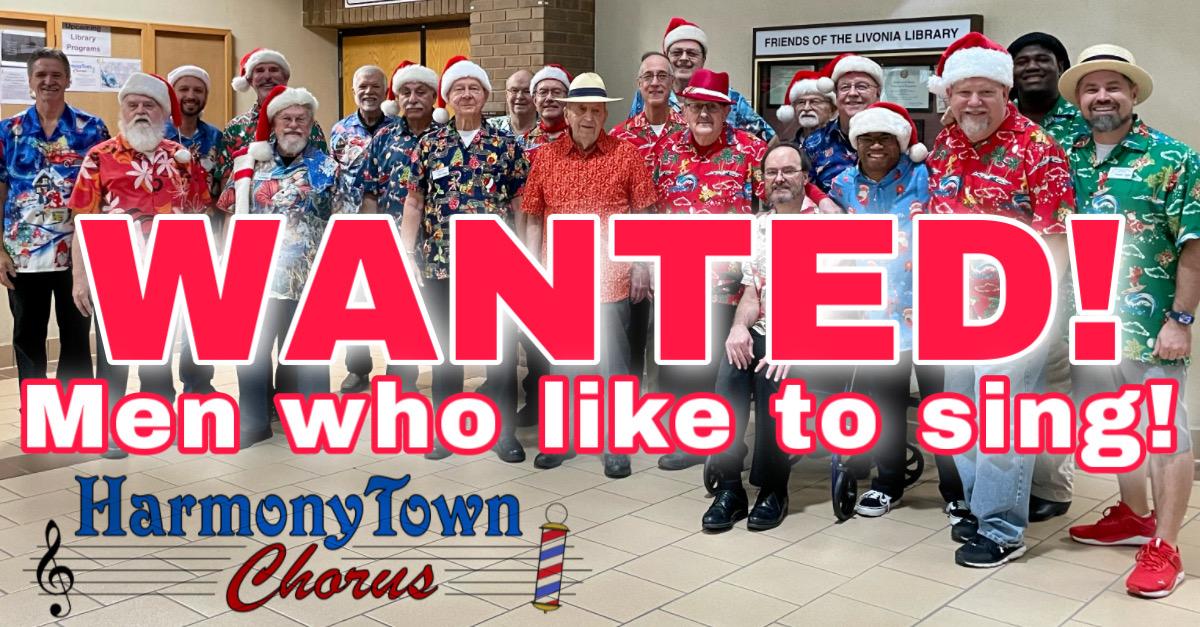 WANTED! Men who like to sing.

This is an evening dedicated for newcomers to visit the HarmonyTown Chorus. Come enjoy a night of singing that is all about first time visitors!

St. Michael Lutheran Church
3003 Hannan Rd, Wayne, MI 48184
Tuesday, January 17th at 7:30pm



It's EASY and FUN!.

Men of all vocal experience levels are welcome to join us for a fun evening of songs where we'll introduce you to barbershop style acapella singing. Come experience how easy barbershop singing can be and why it can bring joy into your life!
There is no audition.
No previous singing experience is required.
If you like to sing, this is a place for you!
If you can't read music, no problem!
We use listening (learning audio tracks) to assist in learning music.

We'll be learning the theme song from the TV show "Cheers" and a couple other short songs.



Frequently asked questions:



--What will the night be like?
We will do a brief introduction then get right into warm ups. After warm ups, we will listen to the featured song and then go to a sectional rehearsal. We utilize learning tracks (listening) to teach the music. You do not need to know how to read the music.

--What do I need to bring with me?
Honestly, nothing really. A smile, a good attitude and willingness to learn.

--How much will this really cost me?
Nothing. No deposits. No money requested, No fee at the end of the night.

As a chorus, we have membership fees if someone decides they want to continue with the group and join us as a member. If you wish to continue and join, we can discuss the cost then. We are honestly not trying to push anyone to become a member, unless they wish to do so.

--What is the music we are learning going to be like?
We have chosen songs that are meant for beginners, but that doesn't mean they are boring or too easy. Perfecting a song can take a lot of time. We are trying to teach you the notes and get the feeling of 4 part harmony.

--Do I need to do anything before I come?
No. If you want to speak with someone, Allen or Eddie would be very happy to speak to you! Registration will take place when you arrive.

--What if I don't know my voice part or range?
No problem! We have members who can help voice place you so you sing the part that best fits your range. It's not an audition, Think of it like trying on shoes. You want the shoe that fits best.