Description: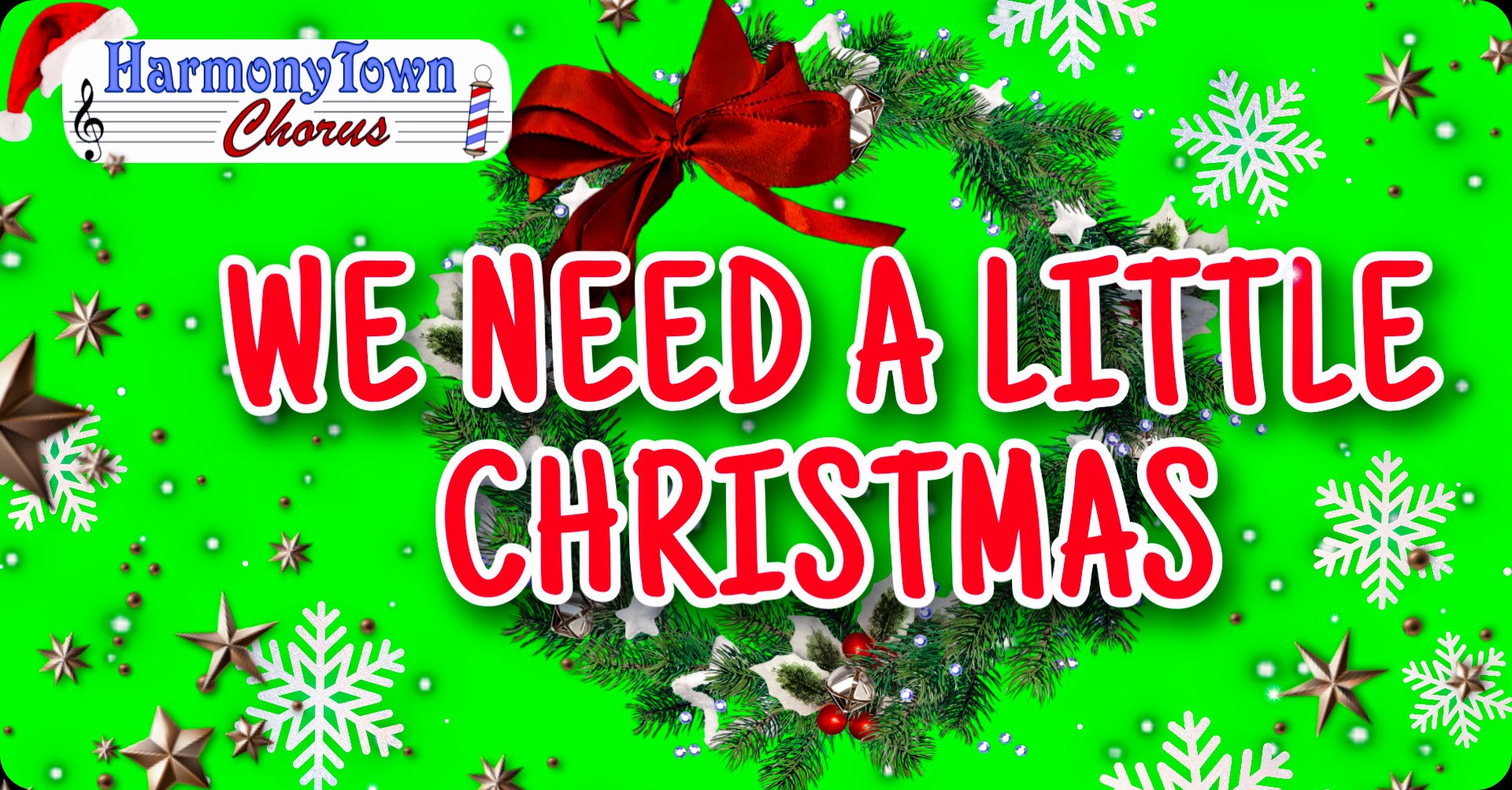 The HarmonyTown Chorus presents "We Need a Little Christmas" concert! Special guest singers "In The Mood" https://www.facebook.com/IntheMoodDetroit

We invite you to join us in a celebration of the Christmas season.This live benefit show is fully dedicated to support charity organizations that play such a key role in our communities.
So please join us, as the Chorus gets you in the holiday spirit through songs and stories.

This will be live in-person or can be viewed via Facebook Live. We wanted to make sure everyone could watch no matter what your comfort level or location is.

Concert venue will be at:
Merriman Road Baptist Church
2055 Merriman Rd, Garden City, MI 48135

There are no tickets but we will be accepting donations to 100% support local charities. Cash or check donations will be accepted at the show and online donations will be accepted via this secure link:
http://give.barbershop.org/harmonytown

The 3 charities we will be supporting are:
1. Camp Casey
https://camp-casey.org/
A local southeast Michigan non-profit group. Camp
Casey's mission is to provide safe, fun experiences for children and families affected by
childhood cancer, rare blood disorders, and other life-threatening illnesses through
accessible horseback riding programs.
2. Michigan Paralyzed Veterans of America
https://www.michiganpva.org/
Michigan Paralyzed Veterans of America (MPVA) has served Michigan since 1961, "making a difference" in the lives of veterans, their families, and the public. We are a leadership organization reaching out on behalf of our members (veterans with spinal cord injury or disorders), associate members, and all people with disabilities to provide the highest possible quality of life in Michigan.
3. F.I.S.H. Food Pantry
https://www.fish-food-pantry.org/
The main objective at the F.I.S.H. Food Pantry is to provide a five to ten day supply of food to families in need. However, in some cases, it is necessary to help more often until their situation improves. The families we serve come from the communities of Carpentersville, East and West Dundee, Sleepy Hollow, and Gilberts, Illinois.